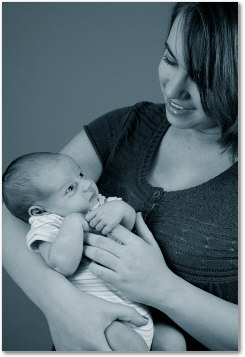 The moment when a woman discovers she is pregnant she almost always feels scared. That emotion of fear may last only a moment or for several weeks. We at RPCC appreciate the distress women can experience from an unexpected pregnancy and respond with dignity, respect and professionalism.
We do everything we can to help her have a healthy baby. First, she needs to know if she has a healthy pregnancy growing in the right place. We help with a free ultrasound performed by medical professionals. Then many times she'll need referrals for medical care, insurance, and other services.; we provide that too. The goal of our medical services is to link her to her own prenatal care provider.
As her pregnancy progresses, she may benefit from a network of good friends who will listen to her, as well as, provide teaching on topics like what to expect during pregnancy, newborn care, breastfeeding, baby milestones and parenting. We offer support groups and classes which help normalize her emotions, both during the pregnancy and after birth.
Babies need lots of "stuff" for a short time. We distribute new car seats, diapers, wipes, baby food, and formula with our incentive program called Bridges. Gently used baby clothes and equipment can also be earned/exchanged by mothers active in the Bridges program.
All these services can be huge in helping her cope and embrace her pregnancy.