When Catherine first discovered she was pregnant she felt unprepared to work through the situation on her own.  She had grown up seeing no problem with abortion, but when she faced an unplanned pregnancy, suddenly it wasn't that easy.  She called her aunt to get a more objective point of view. What she didn't realized was that her Aunt Nancy volunteered at RPCC. Nancy knew just what to do, she invited her into the clinic to work through her options.  When she had all that support and saw her child on the ultrasound, she suddenly got protective.  RPCC  has been able to support Catherine with classes and supplies.  She delivered Ivy Caroline.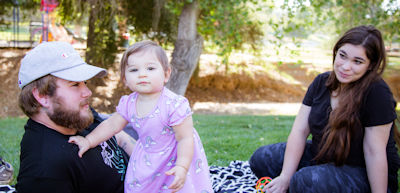 My name is Jessica.  When I first found out I was pregnant I was 17 years old and I was still trying to graduate high school, get my driver's license and figure all of that out. My boyfriend had actually just lost his job.  So, it was already a pretty stressful time. I then I started feeling super sick and was thinking it was just the pressure from finals or maybe I was getting sick. We didn't know what was wrong,  Something told me I needed to take a pregnancy test. So I decided to go to the dollar store and get a pregnancy test.  When it came back positive we both weren't sure what to think because obviously those tests are very cheap; I didn't trust it.  We had seen the sign outside the pregnancy clinic that said free pregnancy test and decided that was the best option, we could then know for sure.
After heading in extremely nervous we were greeted by very friendly faces, I filled out some paperwork and we took the test.  It too came back positive and we called in Adam to share the news.  We were both terrified, absolutely terrified, but Becky and the rest of the staff put our minds at ease. They did a really good job giving us a lot of information and telling us what to expect. That was awesome, we had no idea.  We had never been around babies at all, so figuring that out was really helpful.
After telling some of my family, some of them encouraged abortion.  That made me feel uneasy and upset because I had previously experienced that and it was something I wanted to go through again.
After taking the test we started going to the pregnancy and parenting classes.  RPCC offered classes, all kinds of information, baby supplies, and motivation and encouragement that we could do this.  With Adam not having a job, he came to every pregnancy and parenting class with me and that was super helpful.  We actually went multiple times a week together until he started his job.  These classes were so helpful as we had no clue what we were in for, neither of us really had experience with babies.  We also participated in the car seat program and Bridges meeting.  I really appreciated the meetings and being able to connect with other moms and shop for baby items.  It was so nice being able to get the things and nest for the baby when we couldn't afford to go to the store and shop for baby essentials. I actually still attend these meetings and really enjoy the company of all the other moms.  Being young and not having a lot of support from family members can be really rough when going through something like an unplanned pregnancy, but the pregnancy clinic was always there to help. They gave us the courage we needed to be young parents.  When no one else offered help, there were there.
I graduated high school last year during my pregnancy and am currently attending college for graphic design, working toward my bachelor's degree.  I tested out of my freshman year and only have 2 left! My then boyfriend and I got married and are having our second baby and still utilizing all of the services the clinic has to offer.  Our daughter Hunter is thriving and she is currently trying to walk and cruising across all the furniture.  She knows hi and bye and she waves when we say them to her. She's learning super-fast and I can't believe she's grown so much. We love her more than anything in the world. She's made our lives incredible in every single way and both of us love to watch her grow and learn. We are in a much better place now and I don't know if it would've been possible without the help and support we received from the clinic.  I definitely recommend them to anyone going through a rough situation like we did.
Jessica & Adam, with Hunter
October 2020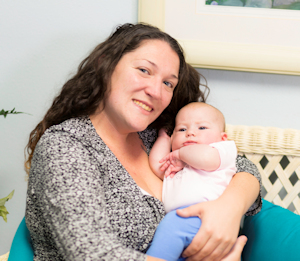 I married my husband August 18, 2018. We got pregnant after being married for just 2 months. He was excited, I was kinda shocked. On Dec 6, 2018 my husband was discharged from the army. He came home and was in my face, "pack the house, we have to leave." It was extremely stressful having to move in 6 days.
We arrived at my in-laws and it got rough. It was hard, my in-laws did not like me. My mother-in-law was extremely abusive towards me. My mother-in-law threatened physical harm twice. She threatened to "kick my butt and snap my neck." She wanted her granddaughter dead, along with me. I started struggling with depression and I felt alone. My whole world came crashing down when my mother-in-law threatened me and my husband stood by her. He chose his mother in a heartbeat. He told me he wished I had a miscarriage.
I started to realize mine and my daughter's life was at risk. I was scared, I was hurt. After being threatened, I moved home to be with my family. Best decision ever! Being back home I got the love of my family and friends. I came to the RPCC and started taking classes. I did 15 classes and got her a carseat. I got the love and support from all the staff. The help that you get at RPCC is amazing! If it wasn't for you guys I would be in a really dark place.
Now I have a beautiful 2 month old baby girl that brings me so much joy. It's the best feeling in the world. Every time I look at her, she smiles or she talks back. I'm just excited about the future with her and to raise her up in a Christian environment. I started to realize my self-worth again and I realized I'm worth more than I was giving my self credit.
Thank you RPCC! I appreciate everything you have done for Ainsley and I.
Caitlyn and Ainsley
August 2019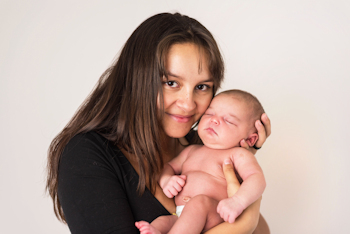 I found out I was pregnant back in February 2017. I had just turned 19 a month earlier and was working part time in Poway and living with my parents. My boyfriend Michael was working two buildings over and going to school full time. I had been on birth control for around 5 years but during the month of January I didn't have the money to buy that month's supply. We had always communicated very well about if I had taken my pill but that month we were both so busy we just forgot. I had a feeling I was pregnant around early February and took some at home tests that came back negative. The feeling hadn't left me so by the middle of the month we made the decision to book an appointment at RPCC to take a test. When the test came back positive we were both scared to say the least. We had only just become adults and as for me, I never wanted to have kids. I am adopted myself, and all I know about my birth mother is that she was too addicted to drugs to take care of me. My adoptive mother and I didn't have a great relationship when I was younger and the first thing that popped into my head in that moment was her voice saying, "You should never have kids because you'll be a terrible mother". During this overwhelming time, our teacher Sharron was very kind and talked to us about our options; we were thinking abortion was the best method.
At that time, I didn't have insurance, so the clinic sent me to get an ultra sound done which determined I was only a month along instead of the original test prediction of 6 weeks. In between this visit and my next at that clinic I ended up in the ER due to bleeding, I was sure it was a miscarriage. The hospital did an ultrasound and that's when I heard my baby's heartbeat for the first time. I was very emotional and mad because Michael wasn't given permission into the room with me since he's not technically family. I remember feeling so alone in the dark room staring at the monitor and seeing how big my little baby had already become. I immediately started crying the second I heard the heartbeat. I walked back into my assigned room and sat in Michael's lap and just hugged him while crying for a long time. After hearing the heartbeat for the first time I knew that I couldn't let anyone take my baby away from me.
I was scared for the future and being a mom at such a young age. I knew that telling both of our parents, family, and friends would be hard and that I needed a lot of help. The following week I returned to the clinic to start my classes and tell the staff my news, they were overjoyed to hear I had decided to have my baby and they gave me a huge basket with clothes, toys, and encouraging letters from the wonderful women who made them. I have gone to almost every class that is offered at the clinic with Michael by my side and it has brought us closer and so much relief in preparing for a baby. When I can, I attend the Bridges meetings that have allowed me to interact with new moms and moms with multiple kids and I've learned a lot from them. I also took the four-week childbirth classes a few months before my due date and they really got me prepared for labor.
As for my life now, I am currently living with my beautiful baby girl Orion, Michael, and his parents. I have just started back at Palomar college after a 3-year break and am taking online classes, so I can stay at home with my daughter and watch her grow. I am working towards my Associate in Science in Business Administration and hope to open up my own small business one day. Next week we are driving to Oregon to celebrate Orion's first birthday and finally introducing her to the rest of her aunts and uncles. It's been a hard transition into becoming a parent at such a young age, but the clinic has provided so much help and support that has gotten me through this experience a lot easier than most people have it. I am so thankful for everyone at the clinic and how much time they have spent with my family.
Krista and Orion
October 2018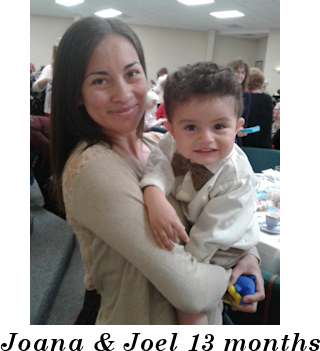 When I first heard about RPCC, I was in my 7th month of pregnancy. I was looking for Lamaze classes.
I have received many services at RPCC among those are the support group meetings, classes, nutrition counseling and during my second pregnancy I received an ultrasound and a prenatal check up.
RPCC services have changed my life for the better because I have learned a lot about my children's development, emotions and personality. I also have learned how important taking care of myself is. Receiving advice and support from the volunteers and staff has helped me in my daily life as a mom, wife, sister and daughter.
Joana
March 2018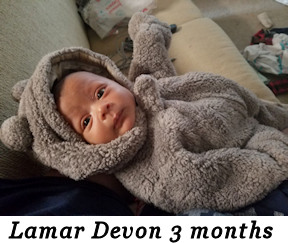 In March I made the call to schedule an abortion. I was 6 weeks pregnant, and while abortion didn't feel right to me, it was pushed on me by family members who had convinced me abortion was my only hope at having a future.
My child's father was extremely abusive, and everyone feared he would be in my life forever if I kept this child. M sister, who had experience unplanned pregnancy herself, referred me to RPCC and told me to explore my options before I made a decision. I agreed to go and made an appointment for a pregnancy test.
I was immediately greeted with smiles and felt welcome there. I took my test, answered some questions about my background, and told the advocate I was leaning toward abortion. When she asked me why, I told her about my family. She asked me one question that saved my son's life, "What decision do YOU want to make? You are the one who has to live with your decision, not your family." I walked out of those doors that day knowing there was not a chance I wasn't going to have my baby. It took a 30 minute appointment for RPCC to help me make the right decision, and most importantly feel at peace about my decision.
Every time my son hits a milestone, or has a birthday, I will remember that without RPCC there may not have been this child who I adore so much.
Melanie
February 2018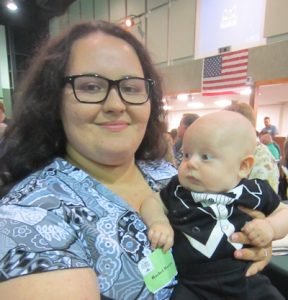 Rachel discovered she was pregnant when she was age 18, on her way to the operating room to have her ovaries removed. and a nurse ran up with pre-op test results, yelling she's PREGNANT! That nurse helped her tell Phil, her boyfriend, she was pregnant, but didn't provide any other help. Rachel wasn't even informed how far along she was. Her whole family was in shock, so brought her straight to RPCC when she left surgery. Rachel says she always knew about the clinic because she heard fond stories of when her mom attended classes here when she was pregnant with her. Rachel and her fiancé came nearly every week for prenatal classes and encouragement. Anything that could go wrong with her pregnancy, did. When her due date was approaching, the baby needed to be delivered so Rachel could have a life-saving procedure. Matthew was born healthy and her ovaries are fine. She says that getting pregnancy saved her ovaries, and she couldn't be happier that she came for help to RPCC.
Rachel
October 2017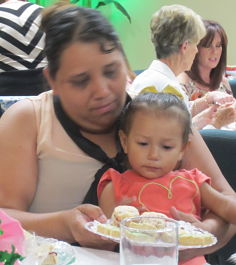 I went through domestic violence and a divorce with 3 young children. I was scared because I had 3 kids and at the time I had no idea what to do with my life. I was really scared living on my own. After 3 years I found someone special. When I got pregnant with my daughter at first I was scared wondering what I was going to do with 4 kids! Then I found RPCC. I am so thankful for them especially Anita and Sharon, because of the programs, their time and helping me to be a better mom and a better person. I learned new ways of disciplining my kids and loving them. I currently have a Bible Study class with Sharon which is helping me a lot. I'm also so grateful to God because He did a lot of miracles in my life. I'm getting married on March 28 and I feel so happy! RPCC helped me a lot and they encouraged me to be a volunteer at the clinic. Now I'm helping to give a Spanish Bible study to another mother, Ana. Once again thank you very much for everything. God Bless You!
Raquel's Story Given at the Tea With thee
March 18, 2016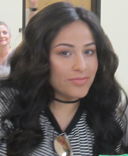 My boyfriend and I weren't getting along and we were fighting. I would then go off to my friends and I was drinking a lot, every weekend. Then one day I missed my period, but didn't think that I could be pregnant because I had taken the morning after pill. We were unsure if I should take a test, so I said that I used to volunteer at this place when I was 16. Lets go there.
When I came to the center and took my test, I told Cindy that I was against abortion. I really thought that the test would come out negative. I was very shocked when It came out positive. Alex and I looked at each other and we were scared. We left and we didn't talk about it. We were so confused and I was so emotional.
A few days passed and I noticed he wasn't talking to me. He admitted that he was scared to become a father. We didn't even have our own place. We were getting into fights over what to do. He was pretty much brainwashing me to have an abortion. It went through my head, but not ever anything that I wanted. We felt so alone. It got to the point to where I didn't want to see him. I kept it a secret from everyone. I was crying in my sleep and would wake up and find my hands were on my tummy like I was protecting my baby.
At the Center we learned that his heartbeat had already started. That made it even more real for me and even more impossible for me to have an abortion. Still nobody knew that we were pregnant. I was really afraid what our parents were going to say. But I really needed my mom while we were working on that decision. It was really hard tryng to keep it secret from them and I knew they would eventually find out the wrong way. I finally blurted it out and then my parents wanted to have a meeting with him. They want to be assured that what was going on in his mind.
I believe getting pregnant was from God. I was putting my life at risk, I was drinking and staying out late. This is what I needed and I know things are only going to get better. We have our own place here in Ramona now. Alex is working in Vista and neither of us are running around with our friends drinking anymore. We have priorities now. For Valentines Day he bought me a ring and we are engaged. We plan to get married before the baby is born. I've been faithful to continue going to church with my family. And we are looking forward to the big day, June 7th. I been coming to the center for classes several times a week and I've been learning a lot more about my baby. Coming to the center to volunteer when I was 16 and then coming for my pregnancy test were the best things that have happened to me.
Yvettes's Testimony given at the Tea With Thee
March 2017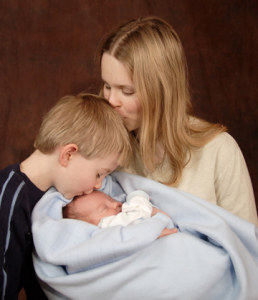 When I came to RPCC my boyfriend and I had a 4 year old preschooler, Steven, and we were living with his family. When I discovered that I was pregnant, I was in shock. We were struggling financially, living in one bedroom. I already didn't feel that I measured up in my future mother-in-law's eyes, and when she discovered we were expecting again, I felt like a failure. Pregnancy is supposed to be one of the happiest times of a woman's life, but I just couldn't feel. I was confused, afraid, and stressed out. I had several appointments at RPCC and each helper encouraged me to start prenatal care as soon as possible, but I couldn't take the necessary steps. My boyfriend watched me struggling and suffering, so he asked me what I wanted to do. When I just raised my shoulders, he suggested abortion thinking I might find that an acceptable solution. There was no suggestion that would jolt me out of my depression. Finally when I was about 5 months along I finally was able to bring myself to call and make an appointment with a doctor and follow through. The volunteers at RPCC were so pleased. After that I started feeling increasingly better. Amazingly, Seth was born healthy and I couldn't be happier. I'm so grateful to God for the volunteers at RPCC who never gave up on me.
Colleen
March 2017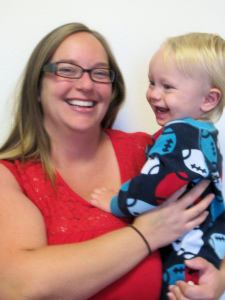 Well, the day came, I had missed my period and honestly I didn't want to take a pregnancy test at home all alone. So, I went to the RPCC to have a test. I was very apprehensive of what the results would be because my boyfriend and I had "our plan." Rocky and I absolutely loved each other and knew we'd get married first and then have kids someday. But going into the clinic my biggest fear was that I might not actually be able to get pregnant because of previous abortions. I was afraid that the choices I had made in my past may have ruined my hopes for the future. Then I got my result and was so happy because I really wanted to be pregnant.
My previous experience made me hesitant to tell Rocky that I was pregnant. With each of my other pregnancies, I had wanted to have the child but the father always said "Abortion!" Scared, I wasn't really sure what Rocky would say to me. When I told him I was pregnant, he was shocked a moment, just like a deer in headlights, but once that soaked in for a second (or five) he was actually extremely excited. I was relieved to hear that abortion was not an option for him. That was all I could ever want.
With my positive pregnancy test I was amazed to discover all the help that was available to me, both from the clinic and other community resources. I called all the phone numbers and found out that I qualified for a lot of assistance. I started coming back for classes and support groups. I learned an abundance of useful information and enjoyed the classes so much I went almost everyday of the week to absorb more. I was amazed to learn that the baby in me already had a heartbeat. But when I had my ultrasound it became so much more real to me. I could see the actual heart beating and blood pumping from me to MY Baby.
Russell was born July 4 2015. Then Rocky and I got married the following month on our fifth anniversary of being together. That baby coming into our lives changed everything. Russell brought Rocky and I and his two children, Taylor and Dalton together in a close and special way making us a family. We all got a wonderful gift the day he was born, LOVE. Now as a family we get to share in that love every day.
This whole being a real family thing has brought me a tremendous joy, happiness and peace that I never knew existed. I could hardly wait to have another baby and we really wanted our family to grow and expand. So, now I'm expecting again on New Year's Day 2017.
Thank you all so much, for without this place and these magnificent women, I may not have had Russell and the beautiful family I do today. You have made ALL my dreams come true.
Valerie
October 2016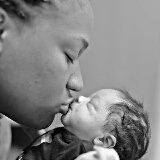 This pregnancy was nerve racking to say the least. I lost my daughter last year on her due date in my womb and she was stillborn the next day. To say I was petrified when I got the positive pregnancy test is the least of it. I wasn't ready to work with the hospitals. Too much PTSD from last time. I went to RPCC and they had loving support, and my mentor is a God fearing women. While I didn't have a great need for stuff, I did need love and support and prayers n these women had my back. Fast forward to 9/19 and my son was born kicking and screaming!
Trish-Ann
October 2016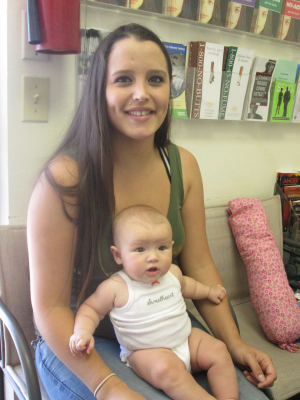 When I first found out that I was pregnant, I was in Nevada for Christmas and noticed that I was hungry all the time, and gaining weight. Months before my visit I had been working at Jack in the Box and noticed myself always eating the sliced pickles. I ended up taking my pregnancy test on Christmas Day at my grandma's. It was weird to tell her that I thought I was pregnant. I didn't have any money, so I asked her to help me get a pregnancy test. The worst part was her boyfriend was the one to drive me to the drug store. I went into the Walgreens alone and bought the best one I could find. When I got back, my grandma wanted to go in the bathroom with me. I said "No Way!" When I opened the door and I told everyone the result, my grandmother started yelling "Oh my gosh! Oh my gosh!" My 7 year old little sister was running down the hallway yelling "My sister Is pregnant!!!!. She's going to have a baby!" I told her to go sit down, because she was freaking me out. It hadn't even sunk in for me yet. I looked at the result and thought "No, it's not positive. I'm not pregnant." I called my boyfriend to give him the news a little later. I was really nervous and scared. He already suspected that I was pregnant and wasn't that surprised, but excited from the very beginning. Also, I was concerned because I had just gotten a job. I didn't tell them for awhile because I was afraid I would get fired.
I returned to Ramona and my older sister told me to go to RPCC, that they would help me. I had always seen the Free Pregnancy Test Sign. I wanted to confirm the pregnancy test was true and wanted to get an ultrasound to see my baby-my little bugger. Even though I had only known I was pregnant for a few days, we thought I was 3 or 4 months along, but the ultrasound showed that I was 5 months along! I was over half way through the pregnancy. We couldn't even see her whole body on the screen at one time. Help getting medical and WIC. The classes with the volunteers and meetings were very helpful, and I learned a lot of stuff that I never knew before. I got credit for reading brochures and I met other mothers that helped me not be so scared. The baby store helped me save lots of money on wipes, diapers and stuff. My favorite things were a hand knitted pink and white blanket, a cute dress with roses around the bottom and a front pack carrier. I have earned an awesome carseat in the carseart program
We moved into our own apartment when she was 2 weeks old. I'm a stay at home mom now. Life is busy now. I'm feeding her, changing her, playing with her almost all day. I have an at home business that I am working.
It's a lot and I love it.
Karyssa and Adelyn 2 months
August 2016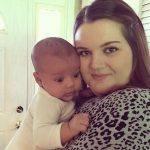 When people say that having an unplanned pregnancy ruins your life and/or your future it really makes me laugh because when I got pregnant I had just lost my job, had just flunked an entire semester, had to move back into my parents, and was absolutely devastated that I was pregnant. And SINCE having Landon I have a 3.2 GPA, use my own money to provide for my son, and make much better decisions because they impact two people instead of one. Having an unplanned pregnancy most definitely didn't ruin my future, it gave me one. I wouldn't take it back for anything. Landon didn't ruin my life, he saved it.
Melanie (age 21)
February 2016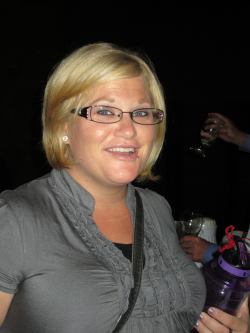 I had just ended an abusive relationship and was starting over with my two kids, moved in with a family that I was starting to nanny for. I reconnected with an old friend. I had been told by a doctor that I was unable to get pregnant. I hadn't gotten pregnant in 5 years. When I discovered that I was pregnant, I also discovered that he was married and had no intention of leaving the marriage or being involved really in anyway.
Before I even came in to RPCC, I had taken 7, literally 7, pregnancy tests at home. When I first came, my friend brought me, she insisted that I come. When I walked in and saw Sharon, I thought, "Oh No! a lady from the church I grew up in." I was in denial BIG TIME! I was spinning and I didn't know how to process it all. When I first met with Sharon she listened, gave me my options, including adoption. When I asked where to get an abortion, she answered honestly and said "I don't know." I didn't want to even say that word "Abortion." Sharon gave me brochures about all my options, but I didn't really want to read them. I wanted to take a pill and magically make my pregnancy disappear. She offered me an ultrasound to verify that I even had a viable pregnancy and how far along I was. I got in really quick for the ultrasound at RPCC, the very next day. My friend was with me, but I couldn't even look at the screen, I still didn't want to believe it.
I went home and looked into abortion and made an appointment. I was crying when I made the appointment and the lady asked me if I was ok. I was not ok, there was nothing ok about this! I read a lot about abortion on the Internet. I talked to lots of people about what to do. Several people encouraged me to abort saying that I had a right to choose. NOW, that makes me mad. I was scared to talk to my mom, but Sharon encouraged me that she would be there and still love me. I was really scared to disappoint my parents again.
I woke up on the day of the abortion and I realized that I couldn't do it. It was murder. I just couldn't kill my baby. I thought about my other children and how I couldn't kill them. It went against everything I was raised believing. Before I was pregnant in this crisis situation, there is no way I would have ever considered an abortion.
With you guys, I was able to do the talking instead of listening to everyone telling me what to do. That was huge for me.
I finally realized that God was the one that allowed me to get pregnant, and now I call this my miracle baby, which I already found out is a boy. I believe that God has a plan for my life. When this first started I wasn't open to God in my life at all, now I am taking baby steps towards the Lord. I'm praying and listening to Christian radio now. My kids and I are making plans to go to church again. I just got my driver's license back and have purchased a mini-van. I've just moved in with my parents. I've gotten on a list for low income housing. I'm applying for all sort of jobs. Sunday my friend is throwing a baby shower for Bentley and me.
Tanya – 8 Months Pregnant
Oct 2015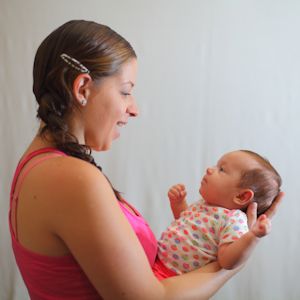 A year ago, I had just moved to Hemet with my dad and was trying to have a fresh start in my life. I needed to get away from my old stomping grounds. When things went bad in Hemet and I realized that those surroundings weren't good for me either, I made the decision and I moved in with my boyfriend in Ramona.
One day I felt like I might be pregnant, but I didn't know. After drinking my morning coffee, I had vomited and suspected, so the next day I came in for a pregnancy test and met with Michelle. I was really scared thinking that I wasn't ready for this. I had just gotten my fresh start and wasn't thinking I was stable enough yet for this. I was scared and nervous when I came in. Michelle made me feel so comfortable that I had support here. She was really concerned about how I was feeling, compassionate. When I left I was definitely feeling kind of excited because I wanted to be the best mom and knew that I had people here at the clinic that were there for me. The best service was the sonograms. I got to see her on the screen for the very first time. You guys had so much information on everything. I love this place. Classes with my counselor were really thorough and all the material helped me learn what to expect and took away my fears. The Bridges meetings really proved that you guys are supportive of pregnant women and mothers of newborns.
Now I have a 3 month old little girl. She's the best thing in my life. Going forward and having her has been the best decision I could have made. My life is in a very secure place and I couldn't be any happier. I plan on going back to work and school eventually. I've completed my prerequisites and now I need to work on my major. My boyfriend and I talk about getting married all the time and want to have more children.
Kayla's Story
October 2014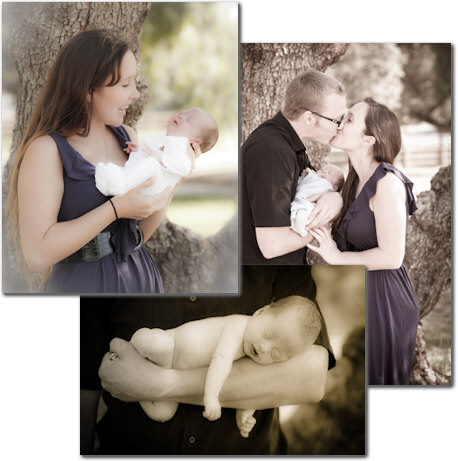 When we first came to RPCC we had already done three home pregnancy tests that all came out positive. We wanted to go someplace credible where we could confirm the pregnancy and we knew that at RPCC they deal with pregnancy every day. We felt shock and terror at being so young and financially unstable; it was going to be rough telling our parents.
The clinic helped us with many services: prayer while telling our parents, providing our first ultrasound, educating us about pregnancy/parenting options, and preparing us in our decision. The ultrasound was life changing for us. Grasping that this was "our" decision helped us openly evaluate adoption vs. parenting. We were provided the support through that process that we had hoped to receive from our family. Right away we took a parenting class together and began attending the support group. Meeting other mothers in various stages of life was so encouraging to see that they could make it work.
Our son, Ezekiel is now 10 months old, crawling and climbing on everything. I (Kelsey) come to the clinic weekly still for spiritual instruction so we can raise our child in a positive environment. I finished my preschool teaching credential before he was born. Chris is starting a business to support our family. We now see that it doesn't matter how many resources we have to raise a child, what matters most is how much love we give him.
Who would have thought? We just came into the clinic for a free pregnancy test and ended up a year later with this great family of support.
Kelsey, Chris & Ezekiel
February 2014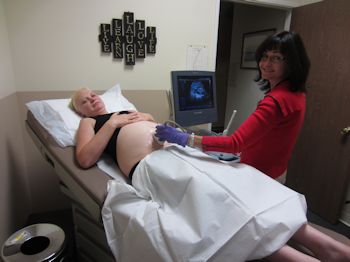 When I found out I was pregnant, I heard about the RPCC. I was considering abortion because a person like me, I thought, with my type of life-style shouldn't be a mom. I'd been in and out of jail for my drug and alcohol use. But the more I kept coming to RPCC, and when I had my ultrasound, I saw that there were different options and they could help me. When I was 3 months along I went into a drug rehab program. I came back to RPCC after I got out, and have been coming to weekly sessions with my original crisis counselor and to the other activities for me. I've received all kinds of support-emotional, physical, spiritual and educational. I've really come to know Jesus and I think that this was His plan to get me on the right track. RPCC has helped me to become a better person, one who will contribute to society. I've learned that there is a way to stay sober and bring my baby into the world. I know it will be hard, but through the help I received I know I can have faith in myself and I can do it.
Victoria,
January 2013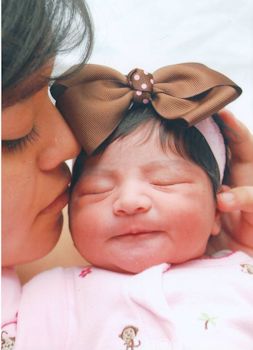 When I first went into the RPCC I was scared of what the results were going to be and if I would be welcomed there or if they would judge me for being so young. But as soon as I walked in and talked to my counselor, I felt much better. It was as if I just took some weight off my shoulders knowing they were going to be there helping me out on whatever I needed. The clinic has great services I loved and that helped me out a lot. My favorite one is the ultrasound, just seeing my little girl growing inside of me made me forget about all the problems I had in my life and think of her and only her. What I really liked was that my counselor would show me how much she cared and was concerned about me by checking up on me every week and making sure I'm doing good. The most helpful service is Bridges where I can get support from other moms and I can shop for diapers and other baby stuff with baby bucks. I am so thankful for all the people at the Clinic helping me out because at first I was scared of not knowing what to do and thanks to everyone at the Clinic I'm not scared of being a mom, I'm very happy with my little girl, Chloe.
Maribel, age 16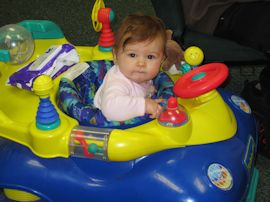 A Jewish Proverb I have always loved is "God could not be everywhere, therefore He made mothers." Hello, my name is Natalie & I have a seven month old daughter named Nora. The volunteers of the clinic have done so much for me. When I first found out I was pregnant, I was just starting to settle into my new home up here in Ramona. I was trying to get my life together, figure out who & what I wanted to be. People always told me, that if I wanted to make God laugh, I should tell him my plan. Well, while I was busy trying to figure out my plan, God decided for me. So finding out that I was soon going to be a mom was very scary. I had a lot of fears. I had very few friends in Ramona, none of which had kids, I had just lost my job & with just me and the baby's father I was unsure how things would pan out. We were both afraid we wouldn't know what to do or how to prepare for such a big life change. But then I went back to the RPCC for my first sonogram, and while sitting in that room with this kind woman showing me the little sea monkey and that was made me feel like everything was going to be ok. That's how I feel every time I walk into the RPCC. They have great classes I took to help me feel more prepared; and the videos helped me better understand what was happening. It was a huge relief to hear that I could earn essential items for my new arrival while also arming my self with the tools to be a better parent. However, the most helpful service was the Bridges meetings. It was there I met many girls in similar situations to mine. I no longer felt scared or alone. I also knew from that moment forward I would always have someone I could turn to when in need. It was in those meetings that we, the new moms and moms-to-be could really share and bond. Without the RPCC. I wouldn't have the support system I have now. So for everything I want to say Thank You.Natalie and 7 month old Nora
October 2011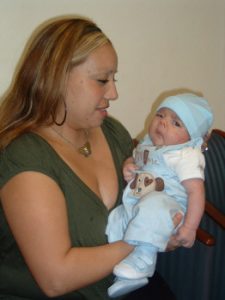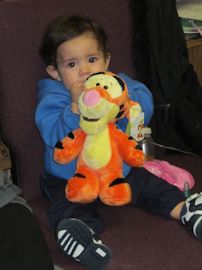 When I first walked into the Clinic it was so nice that the staff remembered me. They always have treated me so well. I couldn't have found a better clinic and the person I had as a counselor. The services that the Clinic has to offer are so good. But for me the best one I would say and feel everyone agrees is the support group because it not only helps our babies with the supplies, but helps me when Ihave that bonded with the other mothers…. My life at this point is the best, I'm loving the fact of being a mother for the third time. Having this little baby boy God couldn't have blessed me more. And what I am feeling now is something so beautiful my heart feels good serving here at the Clinic as a volunteer since last year is amazing-being able to help other moms like me get the same opportunity.
Emma
When I found out I was pregnant I was in a really bad place in my life. I knew the father wasn't going to be involved. I was staying on my brother's couch, and I already had a 3 year old that I barely saw as it was.
I had only come into RPCC to have an ultrasound done to see if I was too far along to have an abortion. I remember being very stubborn and not wanting to talk to anybody about keeping the baby, but the volunteer cared enough to not just let me walk out the door. She sat me down and had me talk about what I was feeling. Saying my feelings out loud made me realize the severity of the situation.
I ended up moving to Washington to get my head straight and have my baby. About the time I gave birth, my counselor contacted my brother and got ahold of me to find out how everything turned out. I was touched that they remembered me and cared so much to want to know what happened.
My life is amazing now. I never imagined I could love Noah this much. I moved back to Ramona and have a renewed relationship with my 4 year old. And now I get to live with both my babies.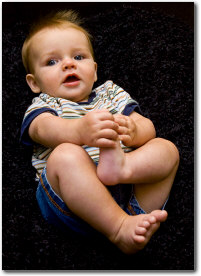 The RPCC has helped me tremendously. I had a former substance abuse problem to pills for about three years. My boyfriend and I have remained close throughout our eight year relationship, but since 2003 it has been steady, but rocky. We had always wanted a little baby boy, and our wish was granted in June 2009, when I found out I was pregnant. My first step was to go to RPCC to confirm my pregnancy. At first they couldn't find a heartbeat and I was devastated. But then they found one and we were ecstatic.
From then on I started attending the Bridges support group meetings for baby supplies and support. At first, my boyfriend and I both had excellent jobs to care for a family, but our drug habits crushed the joy of the pregnancy. I managed to stay clean for the last 5 months of my pregnancy due to church, RPCC, etc. Sometime during the pregnancy we both became unemployed, homeless, and down and out with not much family support. My mother-in-law even questioned if the baby I was pregnant with was her son's. (He was of course!) I took that as a big insult.
Now I have a 7 month old son named Jaydee Randall born on February 9, 2010. My life has changed for the better by attending school full time. I'm looking to work in the medical field. We are still broke because work is so slow for my boyfriend right now, but we have the support of RPCC through the Bridges meetings, and the Baby Bucks defiantly help so much.
Thank you so much,
Angela
Crystal's Story – March 8, 2009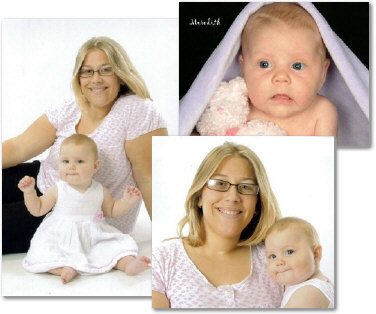 I was first introduced to the clinic 2 years ago when I came in and found out I was pregnant. At that point in my life I was I no way ready to have a child. I was living in a drug house with a man who physically, emotionally and verbally abused me.My choice to participate in the use of drugs led me to loosing the baby. Afterwards Anita helped me through the grieving process and had me volunteer several times a week. Shortly after I unfortunately detached myself from the clinic and dove deeper into my addiction, not caring about myself and what I was doing to my body or how it effected people in my life like family and friends.
When I found out I was pregnant again I made an appointment to get back into the support I had found before. This helped me to overcome my drug addiction and become part of my family again. I now have a decent relationship with my parents and my friends are proud to be seen with me. At the RPCC they offer classes about nutrition and childbirth education that taught me how to eat right and prepared me for the birth of my daughter. Throughout my pregnancy everyone was a great support in getting me ready to be a single mom.
They helped me to get back to church and to a new understanding of who God is and his miraculous works. Teresa has helped me get to doctors appointments and has taught me priceless life lessons that I will forever use in raising Meredith to be a respectable part of society. I look up to all the women at the clinic and hope to help out new young mothers by passing on the wisdom that was freely given to me. I currently attend the support group~Bridges and the scrap-booking craft class on a weekly basis and every parenting class whenever offered to continually gain new knowledge. These are just a few of the fine things offered at the RPCC. Without the caring and loving women I would have been lost.
Thank You so much, Crystal and Meredith
Sade's Story – March 15th, 2009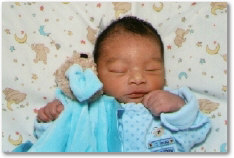 When I found out I was pregnant I was in denial. I didn't think I was and it was actually my mom who knew I was. She was the one who called the pregnancy center and set up an appointment. I went down there with my best friend and the next day, when I came in, again I thought I wasn't pregnant and felt I didn't need to take the test but I did. When I looked at the results the nurse asked me how I felt and I said I feel fine. I told you guys I wasn't pregnant, and she said that two bars mean that its positive, and that's when it hit me.
I was in shock and scared. I was terrified to tell my parents and also the father because at the time we were not together. When I told my mom she said these things happen for a reason, and I really believe that now. The ladies at the center offered for me to come and check out a meeting called Bridges and it's a group of parents and expecting parents. And when I went I really liked it because they offered a lot of support. The father of my son also went to these meetings. He's not present now because he told me he did not care about me or the baby and did not want to be there. We did try to make it work before but he just didn't want to be there. When he left I tried to bring him back to be here, but he wouldn't have it. Now he is in jail, he faces up to 5 years. Now I'm a single parent.
The center offered me parenting classes and single parent classes. I went to the parenting classes as much as I could and when I went they were very helpful and informing and I learned a lot. I still had the struggles and made it through. I had lots of support from home and the center and they gave me lots of advice especially at Bridges. They give me support and its something I always look forward to every other Thursday.
When I said my mom told me that this baby was here for a reason I believe it, because I have broken through a lot of struggles and help to break through the struggles from my family and the ladies at the center. This baby has helped me see who people can really be and the right people that have supported me and is going to be there no matter what happens. The ladies have shown me also how to be stronger as a person. My family has shown me and helped to do that also. Now I have a beautiful son through all this and he is my world.
Sheana's Story – October 21, 2008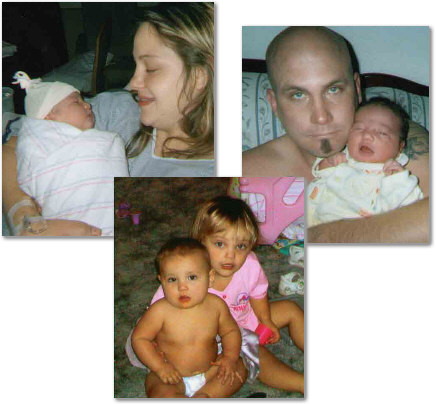 When I came to the RPCC I was very scared. I had just finished 6 months of Interferon and Riboviron treatment for Hepatitus C. My doctor had clearly told me over and over again not to get pregnant during or 6 months after the treatment. I discovered that I was pregnant just 2 weeks after my final dose of the treatment.I was being pressured to abort by everyone it seemed. My doctor told me that the risk was too great to have a mutated baby as a result of the treatment. My mother had pressured me into an abortion when I was 19 and was doing everything to make me choose it again. I didn't want to have an abortion but I was afraid of the thought of a mutated fetus living in me.
My counselor at RPCC counseled me and reminded me of God's love and truth and that was so helpful because I needed to hear the truth and all the help that was available to me.
I was able to see my baby's heartbeat on the sonogram right away and that sealed the deal for me, that was so assuring- my baby was ok..
Throughout the pregnancy I continued to receive pressure to abort. My husband and my allies at RPCCwere the only ones who supported my decision to go ahead with the pregnancy.
Today I am married. My daughter is healthy and about to celebrate her third birthday. We have a second daughter 9 months old. My husband and I are active in our church and very happy with our family.
Tanya, Kert, and Orion – January 14, 2009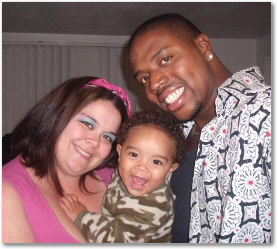 I heard from a friend about this program and I thought I'd check it out because I was kind of scared when I found out that my husband and I were having a baby. I went and met with the volunteer. She asked me a couple of questions, and made me feel welcome there. We talked about everything. After talking to her I understood more about my pregnancy. It was then that I heard about Bridges, where you come to a support group meeting and there are other mothers with children or pregnant. You earn Baby Bucks at Bridges and you can buy baby clothes, diapers, wipes and so many other things that very kind people have donated to the clients. I love going to the meetings and meeting new people-new moms just like me. I rediscovered people that I knew from high school that had kids too. What I'm trying to say is I'm so thankful for RPCC. You guys mean a lot to me. Even when we moved down to Lakeside I still came to the meetings. I just enjoyed them so much! I also wanna thank everyone who donates to the clinic. Without their help and support there wouldn't' beRPCC.
So again, thank-you from the Campbells.
Alex and Tony – June 7, 2008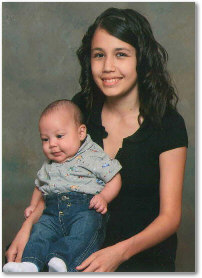 I learned about RPCC from the school nurse. I was 14 years old when I found out that I was pregnant. I didn't really feel anything. I kind of knew that I was pregnant, so when I first came to RPCC and took a test I wasn't surprised.
I always appreciated all the calls I got from Michelle, my counselor atRPCC. She loved and accepted me, without judging me. It made me feel ok about the pregnancy and she gave me the courage finally to tell my mom.
The hardest thing for me was going to school everyday, because I had to ride 45 minutes each day and I would get carsick on top of my morning sickness. I was enrolled in a school that had a special program for pregnant teens. It had a daycare and I got to work in the daycare one period each day. I also took child development there.
My favorite thing about the Bridges support group at RPCC is that I get to talk to other women who are going through the same thing as me. Since I've had Tony I haven't had to buy diapers, clothes, etc. because other moms have given them to me or I've earned them at the Bridges program.
Miguel's Testimony (Tony)
I first went to the pregnancy clinic when my girlfriend had her ultrasound. Seeing my baby on the ultrasound, I was shocked because I was going to be a father and I was only 14! When we started going to the Bridges support group meetings I felt awkward because I didn't know anyone. I felt like I was the only person there that was young, but I wasn't. There were other guys my age too. It helped me feel better and open up. When we went to the meetings there was a separate group for all the dads. We would talk about how it feels to be a father and the challenges that face them. The pregnancy clinic saved us a lot of money because we would earn food, clothes, and diapers when we went to the Bridges meetings. I am very grateful of the clinic. They taught us to only choose life for your baby, which was the best decision I have ever made.