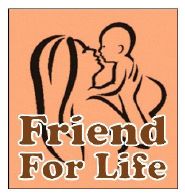 Many in our community of Ramona have joined together to establish RPCC which is a safe haven for a young woman or teen challenged by a pregnancy. By providing free services like emotional support, medical services, ultrasounds, classes and supplies, RPCC is uniquely capable of protecting women and their families from the trauma of an abortion.
All effective ministries require a team of servants. The good news is that the number of abortions in our country is slowly reducing. Decades of pro-life ministry are making the difference. We want to continue to provide these Christ centered, life changing services. Will you join us in this ministry?
You can be involved in this vital ministry as a Friend For Life when you:
1. Carry our business card so that you can refer women to us.
2. Pray daily for one of our recently born babies.
3. Receive and pray for our weekly News and Prayer Needs.
 Together we can make a difference!